Basil's Big Bash
Basil's Big Bash is ASAP Cats' annual fundraising gala, raising hundreds of thousands of dollars for ASAP Cats since 2014.
2022 - Basil's Biggest Bash Yet!
We are proud to announce that this year's Basil's Big Bash raised over $200,000 in the name of saving cats and kittens! With over 300 donors and 50+ sponsorships, including a $10,000 donation, this year was a grand success for the ASAP Cats mission. These funds go directly to supporting the maintenance and upkeep of our shelter and its inhabitants, as well as providing essential, life-saving surgeries for cats and kittens in need.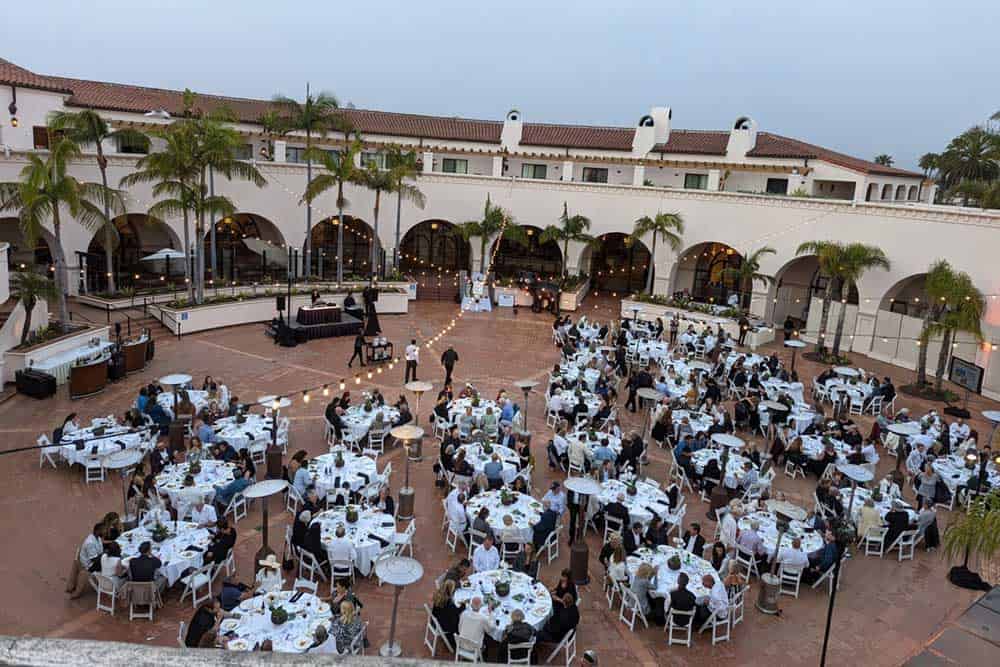 Article by Noozhawk:
Nonprofit organization celebrates its accomplishments during COVID-19 pandemic and honors its network of support, including volunteers and staff
ASAP (Animal Shelter Assistance Program) Cats hosted its eighth annual Basil's Big Bash on June 11 at the Hilton Santa Barbara Beachfront Resort, celebrating community and raising more than $200,000 for the many homeless cats and kittens in Santa Barbara County.
The event marked the organization's first in-person gala since 2019.
"After all we've been through, we don't take an evening like this for granted," said board president Bernard Kelmenson, who welcomed more than 300 attendees
"The same can be said for running an organization like ASAP. After the past two years, we don't take for granted any of our supporters, volunteers or staff who make ASAP possible."
As a volunteer-driven organization, the impact of COVID-19 was dramatic, reducing the volunteer pool to 70 from 250, yet the workload did not diminish.
"Tonight, we celebrate all that our organization has accomplished during turbulent times, and we honor our community of partners, donors, supporters, staff, volunteers, foster parents and doctors," said Kelmenson, who started as a volunteer at ASAP nearly 20 years ago.
The gala raises nearly 20% of ASAP's general annual income. Funds raised help provide shelter, veterinary care, behavioral support, rehabilitation, adoption and foster services, education and community outreach.
ASAP provides shelter for nearly 1,000 cats every year, and for the past 33 years ASAP has saved countless lives throughout Santa Barbara County.
An entertaining live auction, silent auction and paddle raise helped generate more than $200,000 for the organization. A 30-cent cat toy was the first item to be auctioned, earning $400, while big-ticket items featured a well-stocked wine cellar, Quebec vacation, custom pet portraits, and an opportunity to have a feline featured on the covers of next year's Bash program.
Suggested donation levels included $5,000 to cover emergency surgery for various injuries or blood work diagnostics for 50 cats/kittens; $1,000 to cover vaccinations for 100 cats/kittens; and a donation of $100 to fund food for all cats and kittens at ASAP for one day.
The event also showcased a video illustrating the work of ASAP in reuniting lost cats with their owners. One of the top priorities of ASAP is keeping cats out of the shelter that don't need to be there and returning them home.
ASAP strives to give each cat what it needs, whether that means adoption, leaving them where they are or reuniting them with their families. The evening concluded with dancing.
Sponsors included Top Cat sponsors Julie and Roger Davis, Bernard Kelmenson, Dan Kelmenson and Shannon Wass, and Sherry and Ronald Maudsley; Cat's Meow sponsors Rebecca and Jim Craig, Renee Fairbanks, Karen and John Jostes, and Loretta Redd; Coot Cat sponsors Linda and Robert Badal, Carpinteria Veterinary Hospital, the Cat & Bird Clinic, Cat Doctors, The Cat House Hotel, Charles and Jan Clouse, Dana Goba, Marco Innocenti and Jill Title, Kim and Jeff, La Cumbre Animal Hospital, Louise and Ron Moore, Helene Segal and George Konstantino, Kate Silsbury, Gina Sunserit and Lefty, VCA Noah's Ark Animal Hospital and Wallin Studios; and Cat's Pajamas sponsors Leslie Brtek, Dermatology & Allergy Clinic for Animals, Ellen and Bob Lilley, Donna Peterson and Nick Pierce, Lisa Reich and Bob Johnson, VCA Care Specialty and Emergency Animal Hospital, and Paul and Isabel Wendt.